June 5, 2009: New Home Secretary Alan Johnson
Alan Johnson is the new Home Secretary. He was appointed following the resignation of Jacqui Smith. He was elected to Parliament in 1997, and represents the Hull west and Hessle constituency.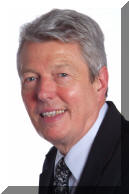 Before taking the lead ministerial role at the Home Office, he served as senior minister at several other departments.He came to the Home Office from Department for Health, where he was Secretary of State. Prior to joining the Health Department, he served as Secretary of State for Education and Skills, and as Secretary of State at the Department of Trade and Industry, and at the Department of Work and Pensions.
Alan Johnson was born in 1950, and was educated at Sloane Grammar School, Chelsea. He became a postman in 1968, and joined the Union of Communication Workers at the same time.
He held a number of posts within the union representing employees from 1976, and was elected to the National Executive Council in 1981. He became general secretary in 1992, and served as joint general secretary of the Communications Workers' Union (CWU) from 1995 to 1997.
He was a member of the general council of the Trades Union Congress from 1994 to 1995, and a member of the Labour Party national executive committee from 1995 to 1997.